Browse Manuscripts
Step 1. Click See more on ARPHA Writing Tool's homepage to access all manuscripts which you are authoring, co-authoring, contributing, reviewing, editing, or have done so in the past.
Note: For convenience, authors may also access their manuscript drafts from the My drafts button located next to My tasks on the journal website as long as they are logged into their accounts.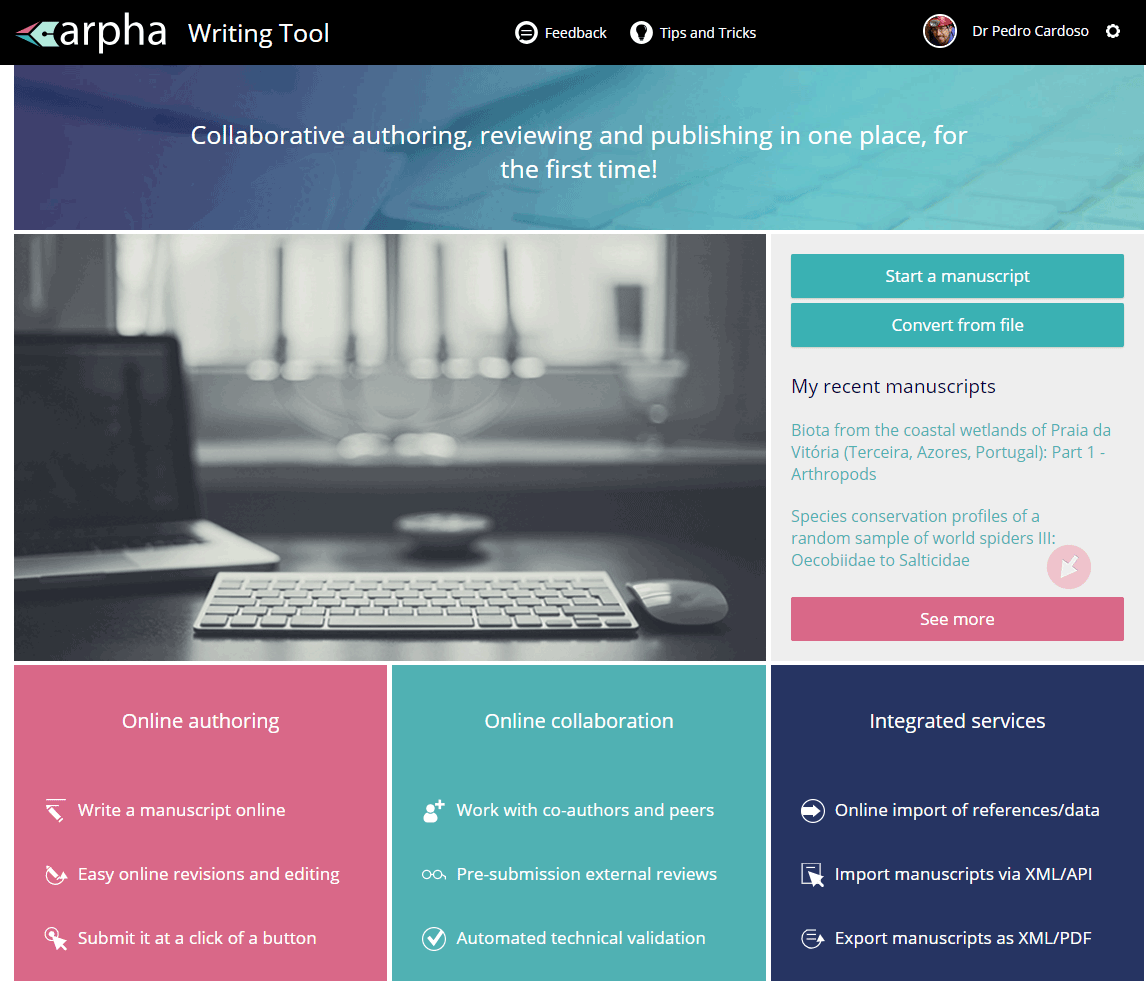 Step 2. Click on the corresponding tab to access a list of your manuscripts based on your role. Depending on your user rights and assignment, you will be able to see tabs such as:
My manuscripts: manuscripts you have submitted as an author or those you co-author.
My reviews: manuscripts you have been assigned to as a reviewer.
My contributions: manuscripts you have been invited to as a contributor (contributors are not listed as co-authors, but are still able to edit the manuscript).
My editoriships: manuscripts you have been assigned to as a Subject editor.
Collection editor: manuscripts added to an article collection assigned to you as a Collection editor/admin or an article collection you have created.

Step 3. Go to any tab to access the submissions in the corresponding list. Depending on your user role and/or the status of a manuscript, you will be able to see (from left to right and from top to bottom):
- Article type of the manuscript.
- ARPHA ID number of the manuscript, which you might need to provide in the event that you contact our helpdesk. Note that once submitted to the journal, your manuscript will be assigned with a new ID number.
- Journal where the article is (to be) submitted.
- Manuscript status (i.e. Draft, Technical evaluation, In pre-submission review, Under review, Approved for submission, Rejected, Published etc.)
- Clickable manuscript title linking to the submission and its content.
- Revision history (for more information about manuscript versions, see Compare Manuscript Versions).
- Date of manuscript creation and date of last revision. Note that after 1 month of inactivity, a manuscript is automatically archived. Once archived, a manuscript can be restored by our Editorial office within 3 months before it is automatically deleted from the system. For convenience, users receive automated reminders about their manuscript's inactivity before it is archived.
- Delete button allowing you to delete manuscripts you have created. Note that you can only delete manuscripts while they are in the Draft stage.
- On the occasion that you delete your draft by mistake, contact our helpdesk with the title and ID number (ARPHA ID) of your manuscript. They will be able to restore it for you.
- The name of the author or contributor who is currently editing the manuscript. Note that only one user can work on a manuscript at a time (inactive users are automatically logged out if they remain inactive for over an hour).